ON/OFF | PROPORTIONAL (P) | FLOATING | INTEGRAL (I) | PROPORTIONAL AND INTEGRAL (PI) | PROPORTIONAL WITH PROPORTIONAL + INTEGRAL (P + PI) | TYPES OF CONTROLLER OUTPUT SIGNAL | GLOSSARY OF TERMS

Principle : Systems has only two states: fully on and fully off.

Description : Two-step control ( on / off or two position). This equipment simply operates between two extremes. It may comprise a single pole single throw switching for on / off control or a single pole double throw switching for open or closed control or a valve or damper motor.

The controller may have an in built device for adjusting the make and break point of the switching action in relation to temperature, otherwise known as a differential adjustment. Pneumatic controllers may be adapted with suitable air relays to provide two step control, although they are inherently proportioning.

Characteristics : Cheap and simple. Constant hunting: uneven temperature control

Application : Large primary and secondary capacity plus slow process reaction; for example, domestic.

Principle : Output signal ( amount of V/V opening) Proportional to input signal (deviation) positional feedback.

Description : With this form of control the correcting unit (control device) assumes intermediate positions between fully open and fully closed, each position bearing direct relationship to the change in the controlled condition as detected by the controller.

In temperature control, for example, this method of control enables the rate of heat input to be regulated to balance the rate of heat loss and so maintain a constant condition within the limits of the proportional band.

The essentials of proportional control are that in addition to transmitting a signal (electrical or pneumatic) to the control device, it should receive in return, a feedback or re-balancing signal in order to halt the device in the correct position, that is >continuous action=.

Characteristics : More sophisticated than ON / OFF: gives variable plant capacity.

Fast response due to positional feedback

Always some offset: only one state of load when desired value equals actual value.

Application : Practically any system. Typical applications of proportional control are control of comfort heating, ventilating and air conditioning plant where load variations are not excessive in rate or magnitude.

Description : In this form of control, there is no definite position of the correcting element for particular values of the deviation, but the value moves slowly towards the open or closed position, depending on whether the deviation is positive or negative, that is whether the desired value. Thus, the value movement taking place will depend on the sign and duration of the deviation.

Single speed floating control is the name given to a type of control in which the potential value is changed at a predetermined constant rate, the direction of the change begin reversed at a chosen value of the controlled condition. In its simplest form, a two step controller is connected to an electric motor operated valve. The motor runs more slowly than in other applications of this type of valve, the time taken for full stroke seldom being less than two minutes when used in the floating mode. Figure 8.12(a) shows the curves of controlled condition and potential value (valve position).

In multi speed floating control several valve opening and closing speeds are available, the changeover from one speed are to another taking place at predetermined values of the controlled condition.

To achieve this, a multi step controller is used in conjunction with an electric motor driving the valve stem. Several motor running speeds are available. Comparison of figures between single speed and multi speed floating control.

Principle : Output signal (speed of V/V opening) proportional to input signal (Deviation)

Description : Integral control is a continuous form of floating control in which there is a proportional relationship between the rate of valve movement of deviation from the desired value movement is proportional to the deviation, the valve position is given by the time integral of the deviation, that is the area under the deviation time curve mathematically.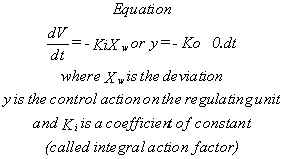 Note: the minus sign is necessary to denote that control action opposes deviation.

The relationship between valve opening or closing rates and deviation is shown in figure 8.13 which also compares integral and two speed floating modes of control.

Characteristics : Lacks positional feedback can cause hunting unless correctly applied.

No offset: detector normally placed near heat source.

Application : Integral control is rarely used alone but, in certain applications, forms a useful addition to the proportional mode which we shall consider next.

Where time lags are short and reaction rates fast, for example, constant supply air temperature ventilation system.

PROPORTIONAL AND INTEGRAL (P I)

Principle : Provides initial rapid response of proportional action followed by fine tuning with integral action to eliminate offset.

Characteristics : Allows wide proportional band setting for stability with elimination of offset.

Application : Where time lags are short and offset undesirable.

PROPORTIONAL WITH PROPORTIONAL + INTEGRAL (P+PI): ALSO KNOWN AS CASCADE

Principle : Based on normal P control, with the detector on the extract side, but with a linked auxiliary PI circuit with the detector in supply.

It is effectively two controllers in one.

Characteristics : Combines P control sensitivity to actual temperature of humidity of controlled condition (long dead time) with fast response of I control on supply side.

Application : Large spaces for example, cinemas, theatres, conference halls, which house 500+ people, where dead times would be too long with normal P control alone.
TYPES OF CONTROLLER OUTPUT SIGNAL
RELAY
ON/OFF (eg. Boiler)

3-Point (eg. Reversible Actuator.)
1 Point - heating ON

1 Point - heating OFF

1 Point - mid position.
VARIABLE VOLTAGE
Operates on Ring Main.

2 - 10V. DC

Can control up to 5 independent outputs in 1.6V steps.

Easy wiring - safe.
VARIABLE CURRENT
0 - 20mA or 4 - 20mA

Simple two core wiring.